HyperHubs Tips
Hyper hubs have been long term tested in the wet north European environment from the start.
For over a decade we have constantly developed and refined each single detail of our Hyper hubs.
Properly maintained hubsets reach a very remarkable lifespan as 5 full racing seasons (training included).
Never spray-wash "Hyper" hubs
Avoid high-pressure washing directly onto freewheel, even the best lip-seals aren't capable to resist to hi-frequency water spray.
When water-moisture get inside the hub mechanism it carries dirt particles too, these can quickly damage the internal alloy hub parts.
The amount of wear depends on the quantity of dirt laying inside, the mileage, and how abrasive are the dirt fine particles.
These 3 factors combined can bring to a premature wear of hub-shell splines and to freehub mechanism failure.

Grease
Alugrease Super1 is the grease we employ inside all Extralite freewheel mechanisms.
Do not exceed and lube exactly as for the specific instruction manual of your hub (never use Lithium grease nor other additives).
Alugrease Super1 does not compromise O-ring springs nor bushing polymers nor rubber seals.
This unlike majority of the greases used in Bicycle work-shops.
The Super1 is extremely soft (grade 1) and does not melt under heating nor harden at low temperature.
Freewheel engineering & durability
Hyper hubs have been engineered with a unique fully AL7075 engagement system over a decade ago.
The engagement system has been intensely tested and features 36/48/60 P.O.E. (points of engagement) on a large diameter for a low contact pressure.
The alloy freewheel parts are all "hart-coated" and offer a very good (but still limited) life-span.
Usage conditions and bike washing frequency sensibly influence the conditions and contamination of the internal mechanism.
Internal cleaning and proper maintenance are critical and can sensibly increase the freewheel mechanism life.
We have seen several well kept units that were still at 80% after 4 to 6 racing seasons.
"Hyper" hubs bearings / O-ring external seals
All models of "Hyper" hub family sport unique external O-ring seals for an additional protection of the bearing seals.
All models are standard equipped with quality Enduro 440C stainless bearings that do not suffer oxidation-corrosion at all.
In clean conditions good hub bearings can last for 30-40.000 Km, however, in the mtb riding environment, dirty water get in them carrying fine abrasive particles too.
For the reasons above the wear of metal races and balls directly depends on the type and amount of abrasive dirt that get inside the bearing.
Additionally most models can be ordered "factory equipped" with several optional ceramic bearings, see options here.
Servicing Errors / Avoid them when executing cleaning-maintenance of your "Hyper" freehub
We warmly recommend to learn the basics about our MTB engagement system from the start in order to ensure an extended hub durability.
Then follow a periodical cleaning maintenance depending on your riding environment and the frequency of bike washing.
Hyper freehub mechanism works in a far different way than other front-engagement hubs you may already know (ChrisKing / DT / others)
Never wrench on Hyper hubs by instinct or past experience but read manuals and strictly follow the instructions step by step (don't skip any step).
Understanding "Hyper" freehub principle is extremely important.
HyperRear freehub function is fully based on the velocity of "Floating-Ring" movement.
"Floating-Ring" movement should happen in one millisecond and this dictates the servicing rules you find on our manuals.
Once engagement teeth got damaged by a slow / un-free movement of the Floating Ring there the entire freewheel assembly should be replaced.
Avoid the following errors that will seriously damage the hub internal parts (immediately or in a very short time):
- Too much grease.
- Uncorrect positioning of grease. Do not apply grease on hub-shell splines (oil them only).
- Wrong grease type (Lithium grease is one of the most dangerous).
- Micro Tuner way off its correct position (this increases also the clearance between engagement teeth)
- Never couple new engagement parts in contact with worn-out ones.
- Never insert a worn-out floating ring into a row of new hub-splines on Hyper1 & Hyper2 (Hyper 2+ & 3 series employ all 24 splines).

Opening "Hyper" Thru-axle Ends
Use only two 17mm closed wrenches.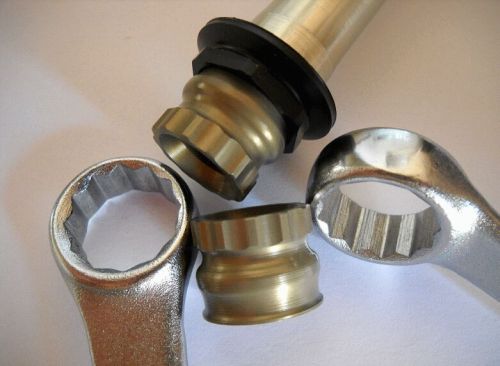 Floating ring series 3 / 2+ / version1
Always install the floating ring of the same exact series of your hub.
Only Hyper2 hubs can be upgraded with Hyper 2+ floating rings.
Here below what to check before installation.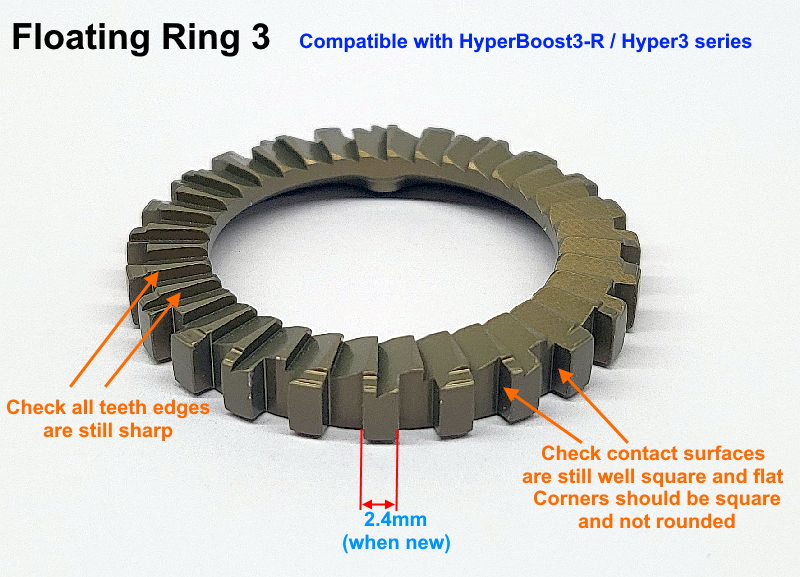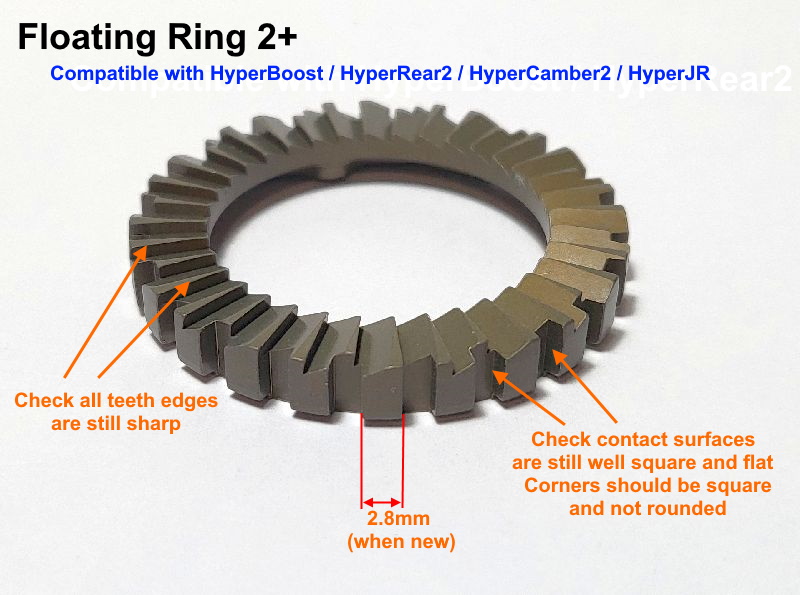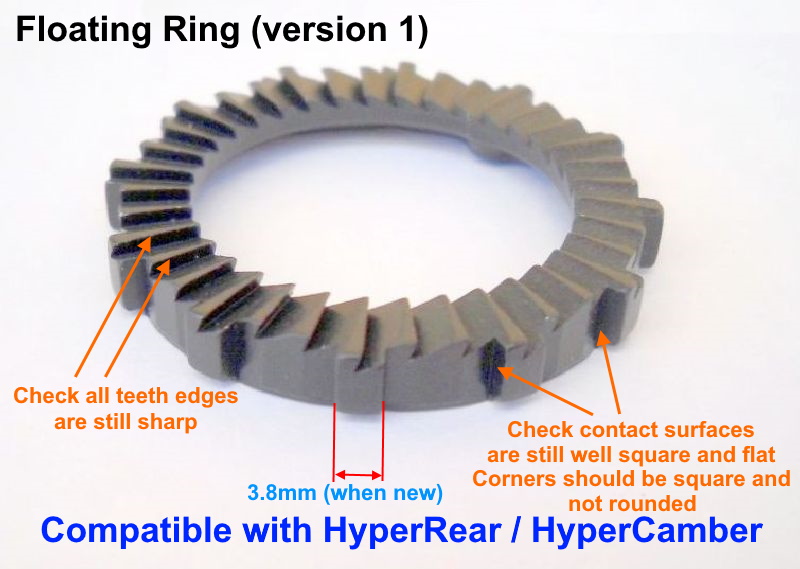 Old and new parts
Never install a worn-out Floating Ring in a still good hubshell, it will quickly damage and wear the hubshell splines.

Hubshell Splines Check
Perfectly clean and degrease hubshell internal splines, all of them.
Once hub-shell internal is perfectly clean check well with eye magnifier all the 24 splines, see image.
Every spline corners (clockwise corners) should be well square and flat.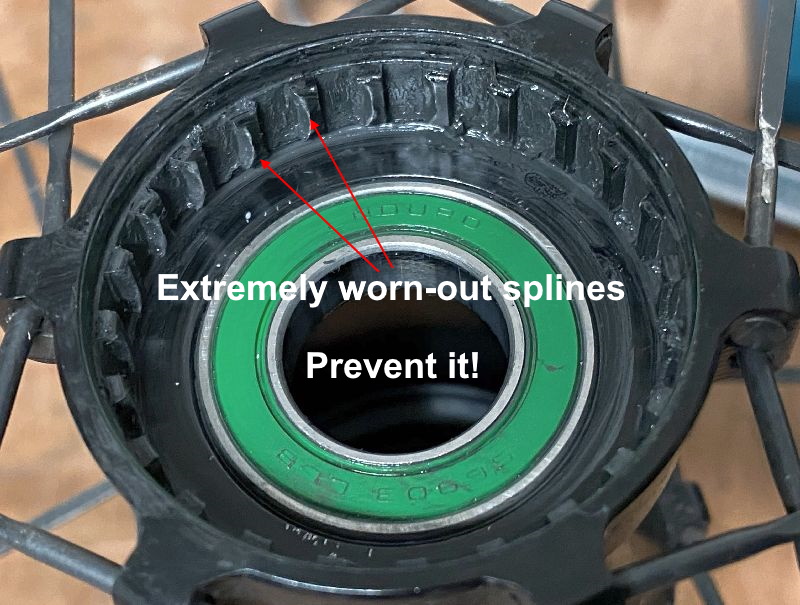 Potential risk
When riding with dirt inside the freewheel mechanism the hard particles of sand can badly grind the hubshell splines.
Shortly dirt abrasive particles will wear the hub-shell splines till the "floating ring" will not move freely anymore.
This easily causes an uncomplete freewheel engagement and permanently damages the freewheel parts.
In this case replacing "floating ring" and/or "Freewheel body" does not solve.
The expensive hub-shell should be replaced (or eventually sent back for re-sharpening).
Spline inspection / Freewheel failure
Before installing any new part you have to detect the reason why that failure happened.
If "micro-tuner" was properly set you should search what may have temporary blocked or slowed the Floating-ring movement and consequently caused a mis-engagement.
Remind that "Hyper" freehub system is purely based on Floating-ring velocity, it should normally move all way in one millisecond.
When the Floating-ring get slowed down by uncorrect greasing, dirt, debris or other reasons the teeth will not reach their correct position in time.
That causes a "mis-engagement" and this can easily chip and damage the sharp edges of several teeth.

- Perfectly clean the hubshell spline area.
- Inspect each spline with an eye magnifier.
- Additionally check also for barely visible burrs (see image below).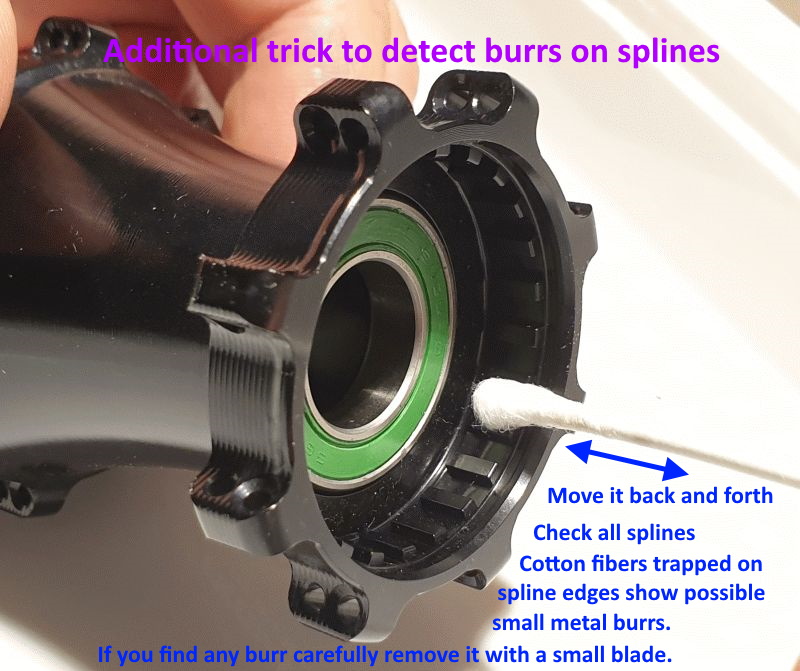 Feel free to ask for additional tech info, we'll be happy to help!