E-Bones 358 gr.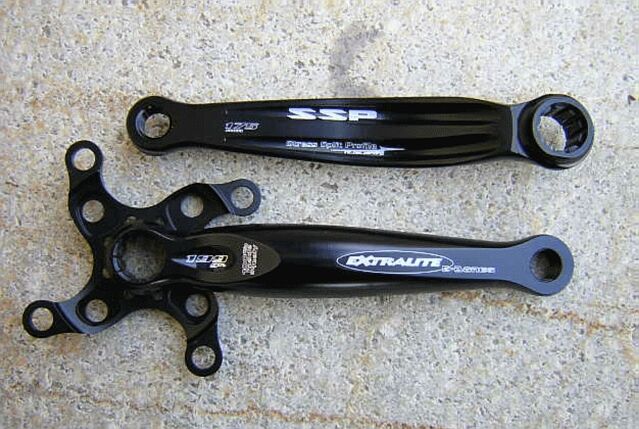 Developed with our hyper-accurate dimensioning, they include our proprietary design:
Stress Split Profile
That means hi-torsional rigidity with unmatched weight.
How dose it work?
Torsional and bending stresses are splitted into separate crank areas enhancing rigidity/mass ratio in every pedalling phase.
Weight: 358gr/set
Sizes: 175 or 172.5mm.
Spider: standard 104mm / 64mm.
Finishing: hard anodized black or hi-polished.
Q-factor: 159mm with 113mm Isis bb.
Graphics: laser etched.
Isis Standard
Hyper accurate Finite Element structure analysis minimizes stress concentrations and improves fatigue resistance.

More than an hour of state-of-art 3D milling technology.
These 3D sculptures can handle your sprinting efforts like no other metal cranks,
SSP technology works for you!
| | |
| --- | --- |
| | E-Bones will performance at their best with OctaRamp |
Complete sets weights
| | |
| --- | --- |
| 476gr. | E-Bones with Octaramp 44T, 32T, 22E (set 3x9) and Extrabolts |
| | |
| 452gr. | E-Bones with Octaramp 44T, 30T (set 2x9) and Extrabolts |
E-Bones: the most sophisticated crankset ever made.
E-Bones excede UNI safety standard fatigue tests.

100% made in Italy