The Post UL 164gr.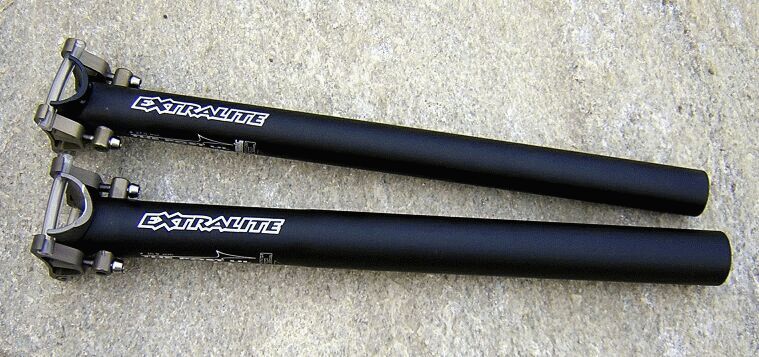 Much ligher, simpler and more elegant than carbon fiber competitors.
Weight: 164gr.*
Graphics: laser etched.
Clamp: AL 7075 T6 Ergal CNC.
Tube: triple butted AL 7075 T6.
Bolts: special, Titanium GRD5 cnc.
Diameters: 31.6 / 30.9 / 27.2 / 27.0mm.
Today carbon fiber products proliferation can catch you, however seatpost tube is not well suitable for constant thickness carbon fibers, the frame clamp high compression effect forces to increase the total weight over any other advantage.
We strongly believe that the optimal riding position (especially on full suspended bikes) requires an in-line seatpost.
Only this layout can provide optimal weight distribution over both wheels that translates in proper cornering ability and good climbing traction.
(*) Lenght 360mm or 400mm, individual weights: 27.0mm x 360mm (164gr), 27.2mm x 360mm (168gr), 30.9 X 360mm (178gr), 31.6mm x 360mm (178gr).
Only available in hard anodized matt black finish.
warning:
Absolutely indestructible, The Post should be inserted in the frame seat tube for a minimum of 90mm to prevent possible frame damages, always respect suggested tightening torque.
what the magazines say:
Attention to detail extends to all of Extralite's parts, the seatpost is a lightweight work of art.
(Mountain Biker International Summer '98)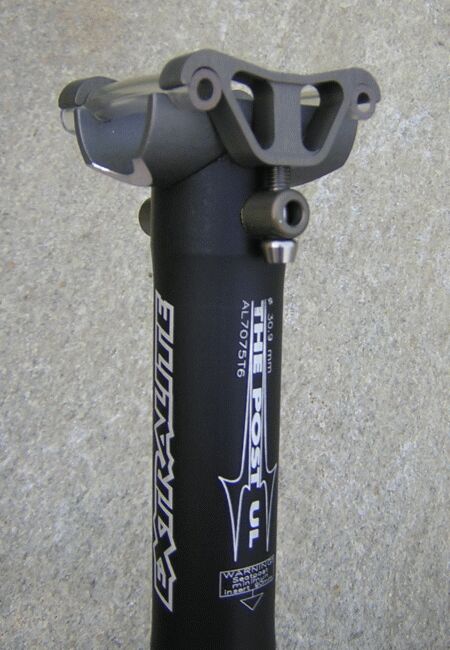 You have to just admire the work that's gone into the top rail clamp, it's just a great shame that's hidden most of the time...!
(Mountain Biker International April '99)

100% made in Italy