The Bar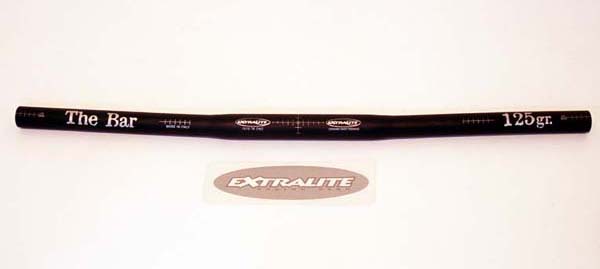 Newly combined technologies allow us to produce the lightest metal bar on the planet.
Bend: 4°.
Width: 580mm.
Weight: 125gr.
Color: matt black.
Ergal 7075 T6 is the best material for absorbing high frequency bumps whilst still offering excellent seering responsiveness.
Bar end compatible.
The Bar has calbrated graphics enabling simple and precise lever and shifter positioning.
Warning: The bar should be used in combination of a standard stem (bar clamp diam. 25.4mm) with rounded edges, just like Extralite The Stem.
Strength and fatigue tested, exceeds Uni 10518 standards.
Manufacturing procedure
Custom extruded 7075 Ergal is firstly CNC'ed then cold drawn, bent, heat treated, ceramic shot peened, and finally anodized and serigraphed.
Ok, now the secret is out, they can only try!

100% made in Italy