The Post 2 180gr.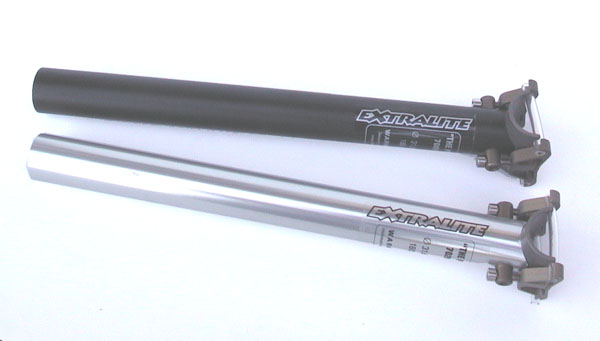 Light, simple, elegant. And still lighter and safer than carbon fiber competitors.
Weight: 180gr.*
Clamp: 7075 T6 Ergal CNC.
Tube: frame quality 7020 T6.
Bolts: special, stainless steel.
Diameters: 31.6 / 30.9 / 27.2 / 27.0 / 26.8mm.
Clamp Adjustment: +20°/-6.5°**
Available in hard anodized black or silver finish, and extra long 400mm.
(*) 360mm length; standard diameters, individual weights and lenghts: 26.8mm x 360mm(176gr), 27.0mm x 360mm(182gr), 27.2mm x 360mm(188gr), 30.9mm X 360mm (196gr), 31.6mm x 360mm(196gr).
(**) Saddle angle adjusment: typical XC frames (73° seat tube) can fit ThePost with every saddle design. Frames with slack seat tube angles (less than 70°) limit horizontal positioning of saddles with rails parallel to the top. Saddles with angled rails help to lower the nose. Notice that saddle angle play an important part on overall seat position. Thereafter you must add the angle between rails and top saddle profile. To obtain complete saddle angle tuning range with reference to vertical, clamp adjusment angles and saddle angle must be added to seat tube angle.
EXAMPLE: You can obtain saddle angle tuning on a 73° seat tube frame and a 5° saddle as follows:
73°+20°+5°=98° (8° nose down)
We strongly believe that the optimal riding position (especially on full suspended bikes) requires an in-line seatpost.
Only this layout can provide optimal weight distribution over both wheels that translates in proper cornering ability and good climbing traction.
warning:
Always respect suggested tightening torque. If your frame have no manufactuer indications use this good rule: seat post tube insertion have to reach and slightly pass horizontal tube and seatstay tubes. The Post prudentially reccomend a minimum insert of 90mm to prevent possible frame damages.
What the magazines say:
Attention to detail extends to all of Extralite's parts, the seatpost is a lightweight work of art.
(Mountain Biker International Summer '98)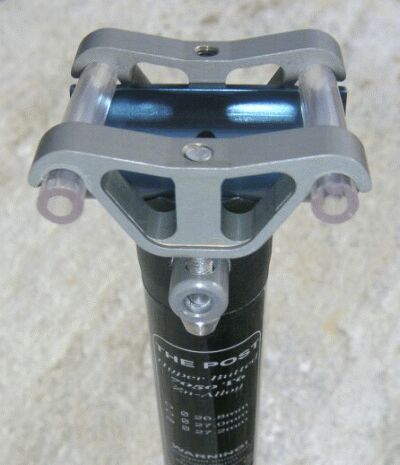 You have to just admire the work that's gone into the top rail clamp, it's just a great shame that's hidden most of the time...!
(Mountain Biker International April '99)

100% made in Italy