FreeHead 2 79gr.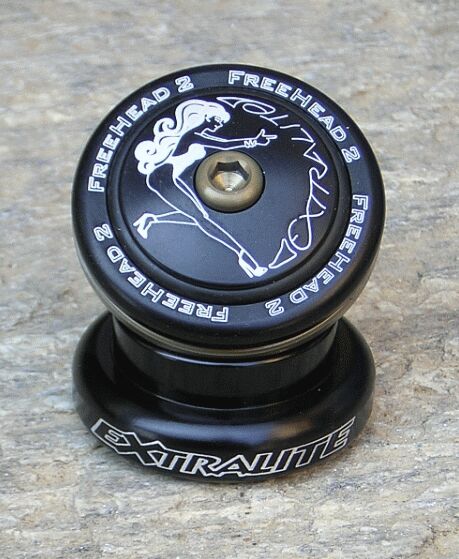 Looking for a bullet proof headset?

Freeride parts don't necessary have to be heavy.
Sealing: 4 RS + 2 O-Rings.
Stack Height: 10 + 12mm.
Weight: 79gr.(top cap & bolt included)
Bearings: 2 stainless bidirectional cartridges.
Standard: 34mm frame head tube*.
Finish: black/bronze anodized.
Graphics: laser etched.
(*) Frame standard 34mm (tolerance 33.95 to 34.00mm); measure refers to frame steer tube internal diameter measured at headset fitting level.
Super-compact design allows better bike layouts leaving more space
to fork travel or rising bar.
Compared to American best efforts we can offer some exciting extras:

· 2 stainless bearing cartridges that can
handle double crown forks and manage DH abuses.
Stainless and fully serviceable.

· 2 external o-rings and a better
labyrinth configuration (that significantly
reduce internal moisture) are added to
4 quality RS sealings on bearing cartridges.

· The unique "Preload Control" minimizes
wrencing and adjustments offering constant preload.

· 30% or more weight reduction
Slimmer, lighter and trickier: a real concentrate
of our Extralite high-quality engineering.
Available in 1 1/8' standard size only.

100% made in Italy