F-2 swinglink 2080gr.(4.6Lb.)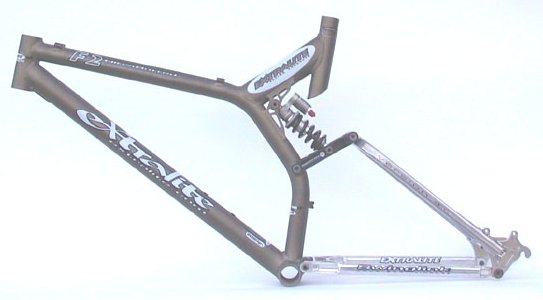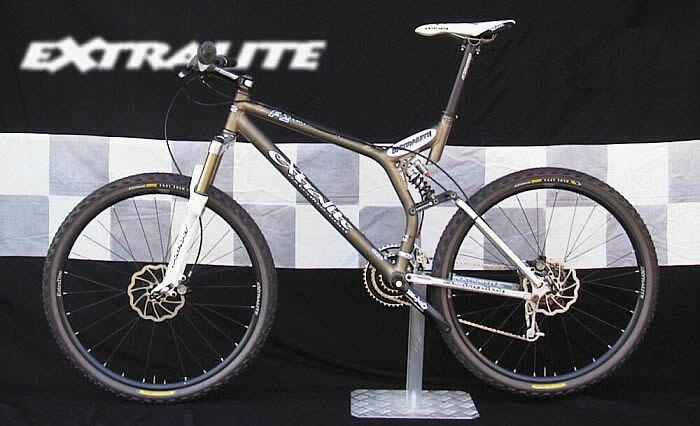 v e r s i o n 4. 0
"Swinglink" Rear Suspension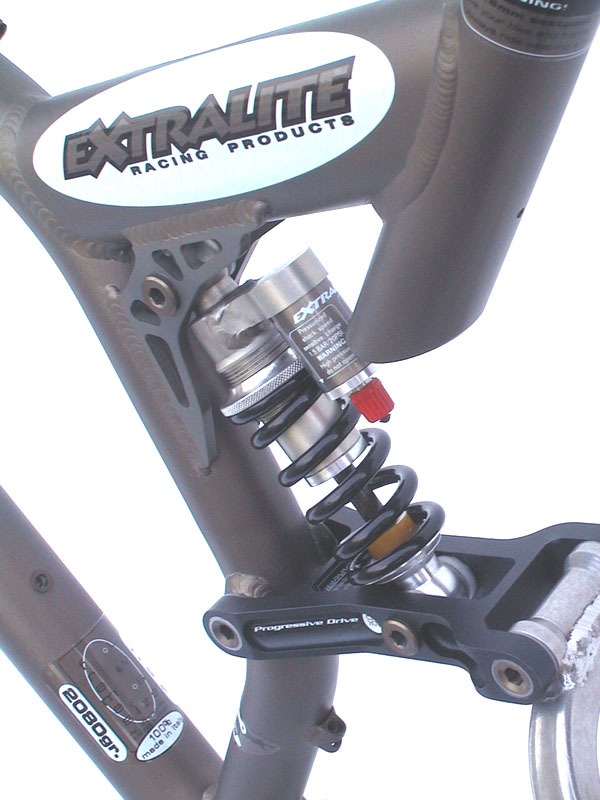 The "Swinglink" rear suspension offers a very plush and progressive response with Extralite's unmatched lightness and stiffness.
It suites those who enjoy riding hard and fast, climbing technically and getting airborne downhilling over any terrain.
It's ability to scale unridable sections, out-brake and out-manoeuvre and fly downhill, puts you in front of any competition.
Designed for very agressive riding or long distance racing, this frame provides highly torsional rigidity and 4 inches of plush rear wheel travel at only 2080gr.(4.6Lb.)*.
*Shock included, Medium size, Anodized finish.
MOUNTAIN BIKE Action
"The Extralite climbs, descends and corners like a champ... ...is one of the most race-worthy suspension bikes we have thrown a leg over."
WonderShock (245gr.)
Extralite fits the F-2 with the planet's lightest
"coil-over" shock.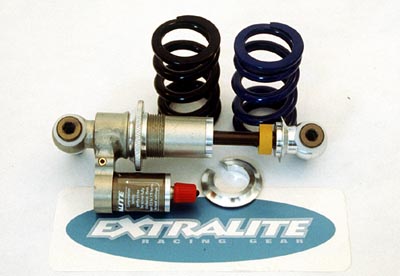 Coil-over shocks offer better response and reliability than anything else.
Technical Specifications
* Pressurized, separate air/oil reservoir.
* Speed sensible damping, fully tunable(internally).
* Excellent dimensional ratio: lenght 134mm, stroke 35mm.
* Damper weight: 140gr. (oil included); Chrome Silicon spring:105gr.
* Exclusive hi-tech graphite composite double lips seals, will last for years.
* Hard anodized 7075 T6 shock shaft, featuring ultra smooth (sub .002) surface treatment.
* Fully rebuildable it offers a very wide tuning range to match idividual damping preference.
* Optional "Winter Kit" features CrMo shaft and Neoprene protective boot for wet conditions.
MOUNTAIN BIKE Action
"Extralite's tiny piggyback shock is a work of art"
MOUNTAIN BIKING UK
"Construction standards are superb"
"This is one of the most carefully finished full suspension frames we've seen."
"The power efficiency of this suspension design and the low, low weight makes the F2 feel almost as lively as a svelte hardtail over terrain where the best hardtail excel, but you will leave hardtails thudding around clumsily in your wake when the terrain goes rough. "
"The light weight encourages you to flick the bike around a lot, so it's alot of fun to ride and it always feels fast"
Gallery
F2 Race Axe 9680gr.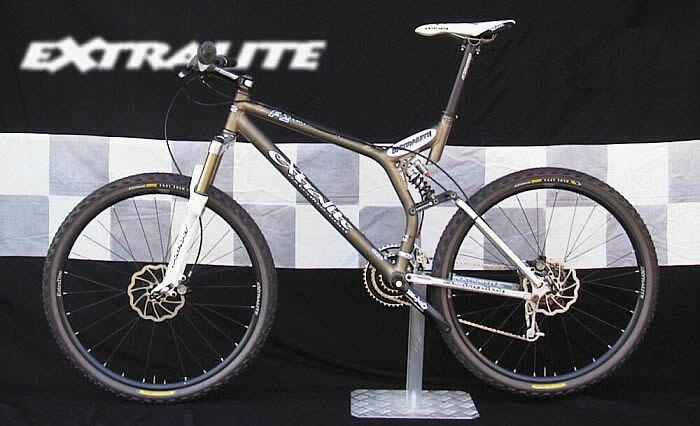 F2 Race Fun XTR 9970gr.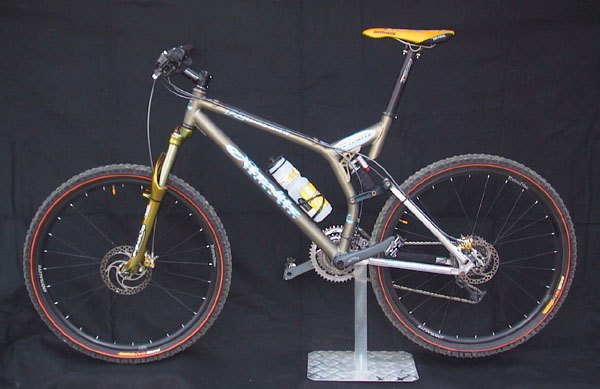 100% made in Italy