HyperSmart3 R
144
g. (24h-XD-HDC)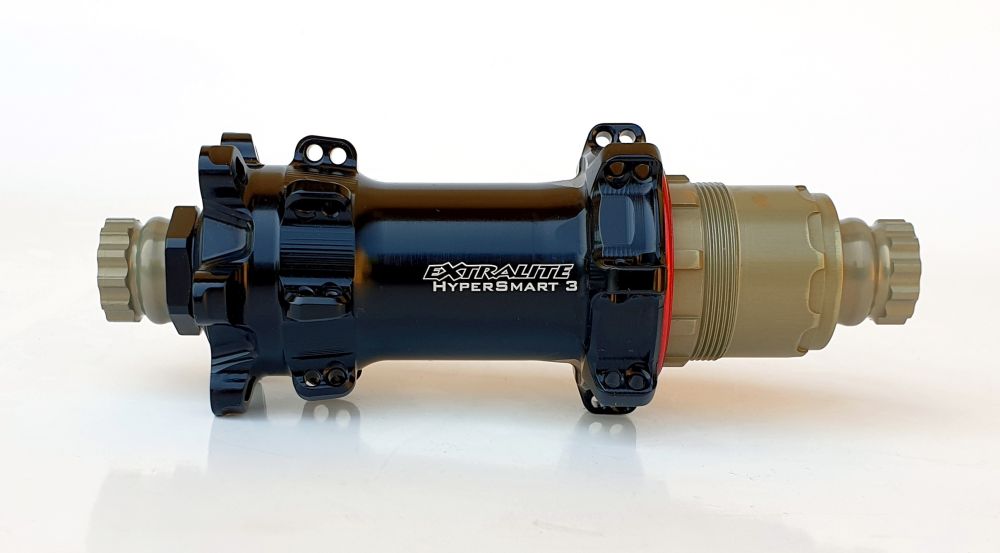 Super adaptive, yet incredibly light and precise.
Weight: 144g.(24h-XD-HDC)
Material: special 7075TXX
Available Drillings: 24h, 28h
Spokes: up to Ø2.6mm, Steel, Berd, Carbon
Frame standard: 142mm Thru-Axle or 135mm"QR"
Road-Gravel cassette standards: 48 poe; Sram XDR-Drive, Shima R11/2s
MTB cassette standards: 36 or 48 poe;Sram XD-Drive, Shima M11s or Shima M12s
Freehub system: 3rd generation of Extralite's hyper engineered front engagement 36 or 48 poe
Freehub seals & bearings: durable polyurethane Lip seal, 2x 6803-2RS sealed cartridges
Hubshell seals & bearings: external Soft-Touch O-r seal, 2RS sealed cartridges 6903+6803
Axle construction: 17mm, multi-shaped and individually lapped to micro tolerances
Bearing options: ABI Enduro 440-stainless, HDC Ceramic, XD15 Ceramic
Micro-Tuner: super accurate external bearing preload system
Finishing: black anodized body, "hart-coat" freehub and axle-ends
Graphics: laser etched

Download user manual
Bearing
Options

Pre-calculated spoke lengths, spoke patterns and wheel building tips.

Freewheel Options

MTB
Sram XD (11-12s)

Shimano MTB 11s

Shimano MTB 12s (includes special lock-ring)

GRAVEL - ROAD


Sram XDR Drive

Shimano R. 11-12s
Unique feature: HyperSmart3-R offers the max spoke camber for MTB lacing and self-adapts when equipped with road-gravel freewheels.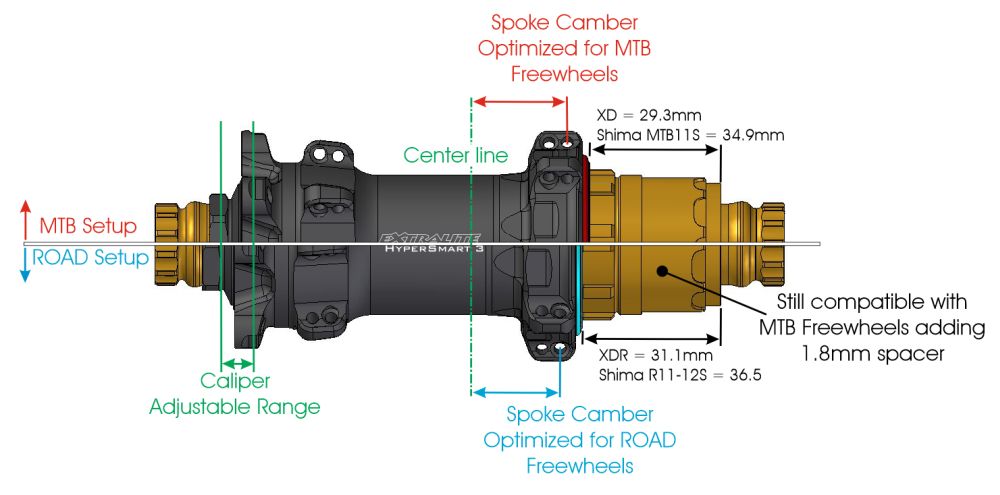 Combine HyperSmart3-R with Black-lock and get a tricky super-stiff assembly.

The overall hub system is the world lightest and employs bigger bearings than most competitors.
Freehub employs 2 corrosion resistant stainless bearings (6803-2rs), hubshell rotates on a"heavy duty"
(6903-2rs) corrosion resistant stainless main bearing that can handle 250kg and a low friction (6803-2rs) bearing on disc side.

Available with MTB and Gravel-road freewheels
Third generation of Extralite's front engagement system increases the gap with the competition.
20% lighter floating-ring enhances engagement quickness and also reduces noise and drag.
Newly developed hubshell splines increase overall lifespan over 35% and simplifies maintenance.
Specifically designed long-life polyurethane Lip seal protects the freewheel mechanism from the elements.
Bigger bearings are mounted onto a bigger 17mm diameter axle, multi-shaped and individually lapped to micro tolerances.
This creates a stiffer assembly that significantly increases bearing durability and hub stiffness.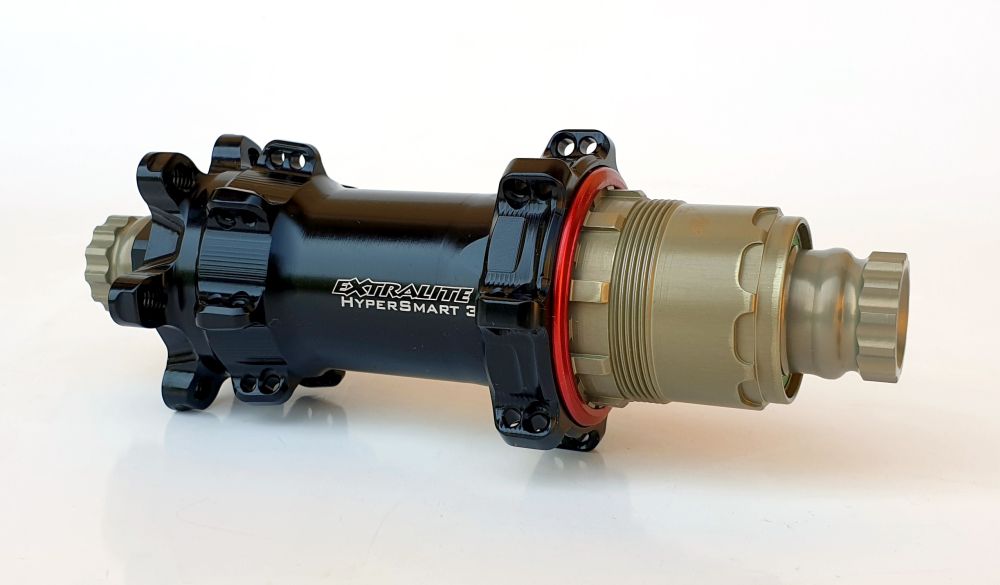 Micro-tuner ensures a very precise bearing setting: minimum bearing friction with highest bearing durability and no play at the rim.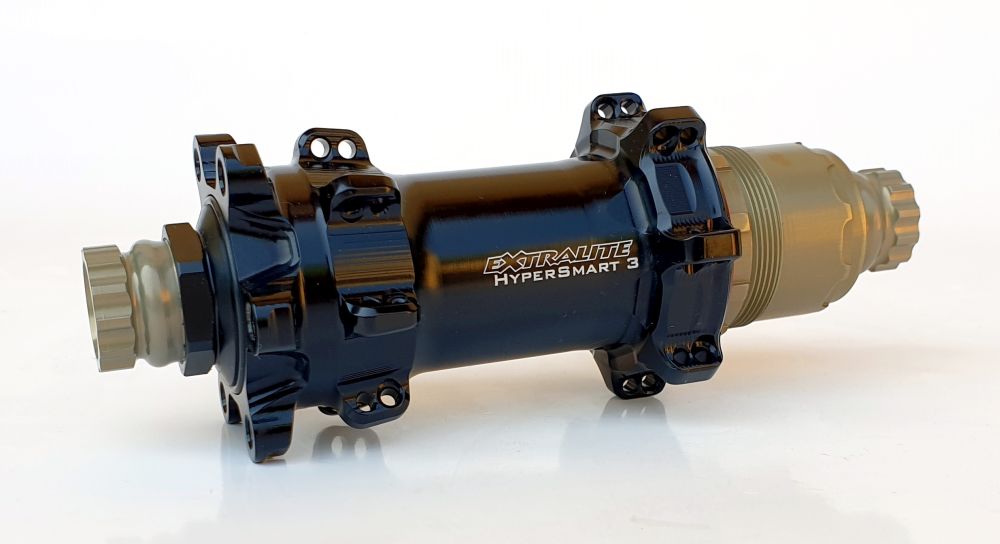 Additional external Soft-Touch O-ring seals keep dust and moisture away from the 2RS bearing seals promoting bearing longevity.
Straight pull spokes increase wheel stiffness, reduce lateral flex and increase reactivity under torque transmission.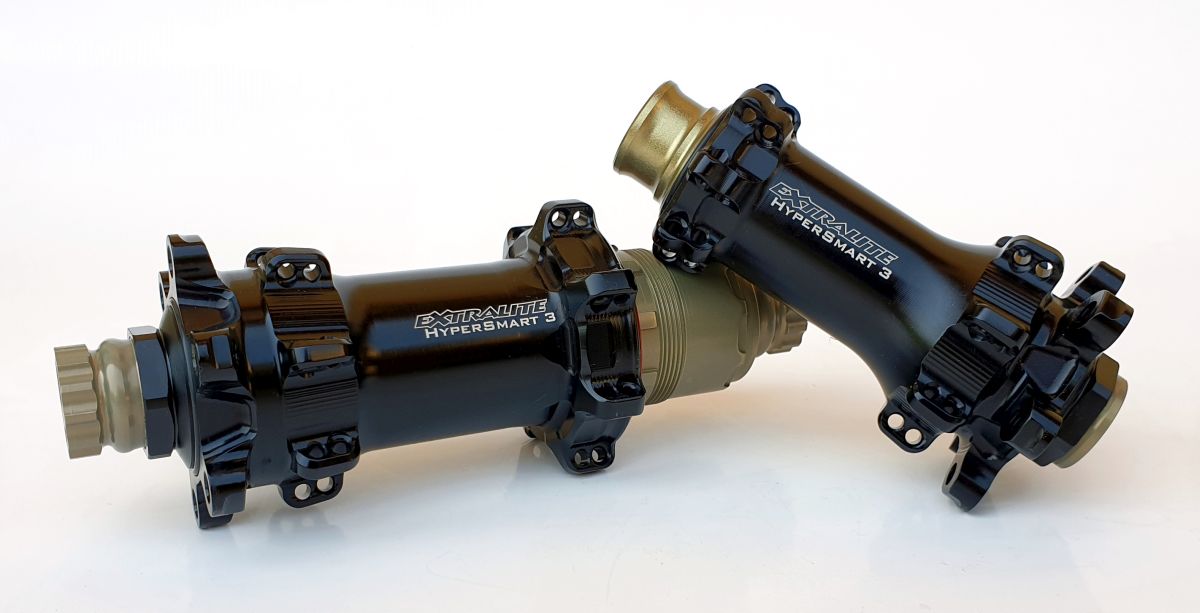 All this offers a sensible weight reduction and is well compatible with Berd spokes too!

100% made in Italy